WELCOME CHRIS AND BALOO!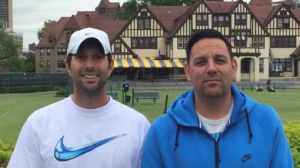 We are delighted to welcome Chris Destefano and Baloo Turcsik (formerly of Citi-Stars) to the Gotham Stadium coaching team.  Chris and Baloo are already hard at work helping us plan for the start of the Fall 2022-23 season. To learn more about Chris and Baloo and the entire Gotham Stadium world-class coaching team, please click HERE.
The Gotham Tennis Academy at Stadium Tennis Center offers a full range of proven junior development training programs that get results for tennis players of all ages and skill levels.  Our program graduates receive training that provides a foundation to play at the highest collegiate levels and beyond.  Our year-round teaching curriculum is continuously adapted by our talented coaching team.  We are passionate about helping players in our system improve and develop their maximum potential, while developing a lifelong love of the sport, good sportsmanship and a healthy work ethic.
Once you have perused the range of programs outlined below, please click on the Request Placement/Register link below to request and facilitate placement.  All classes require advance registration. Some days and times are fully subscribed before the season begins, so please register in advance!
If you have questions about which program is best for your child, please complete a request for placement below and a Junior Program Director will be in touch with you right away to answer questions and facilitate placement. 
Quickstart (Ages 3-7)
Gotham Stadium Quickstart Days/Times:
Quickstart Red (1 hr) : Daily 3:00-4:00
Quickstart Red (1.5 Hrs): Weekdays 3:00-4:30 and 4:00-5:30; Weekends 3:00-4:30
The Gotham Stadium Quickstart program utilizes USTA-approved, kid-size racquets, low pressure balls (foam and red), mini-nets and age and level-appropriate drills. In fun and kid friendly one hour classes, we offer fundamental skill-building exercises critical to creating early muscle memory.  In no time, your child will learn to swing the racquet, make contact with the ball and master basic movement.  You can expect your child to have fun, develop a love of tennis, build confidence and realize significant improvement in the areas of eye-hand coordination, footwork proficiency, and basic stroke movements by the completion of this program.
Junior Development Program (Ages 6-12)
Junior Development Days/Times:
1.5 Hour JDP (Orange/Green, Ages 7-10): Weekdays 4:00-5:30 pm;  Weekends 9:00am – 10:30 am and 10:30am – 12:00pm
2 Hour JDP (Green/Orange, Ages 9-12): Weekdays 4:00-6:00 and Weekends 1:00-3:00
For beginner, advanced beginner and intermediate level players, the Junior Development Program (JDP) is designed to take your child to the next level towards tennis proficiency. This program, offered in age and level appropriate 1 hour, 1.5 hours and 2 hour sessions, develops the player using a progression from orange to green balls.
Players are encouraged to play multiple days in order to maximize progress and development.
Elite High Performance Training Program
EHP Days/Times:
EHP1, for our most advanced twelve and over students, is held Monday-Friday at 5:30-7:30pm and Weekends at 1:00pm-3:00pm.
EHP2, for our most advanced 12 and under students takes place Monday-Friday 4:00-6:00pm and Weekends at 1:00pm-3:00pm.
Elite High Performance (EHP) is a comprehensive training program for our most advanced players involved in or considering additional tournament training.  EHP aims to create a nucleus of talented, hard-working, like-minded students and families striving to achieve excellence in tennis.   Our goal is to provide a pathway for each student to achieve their dreams on the tennis court.  Lead coaches organize daily fitness, match play, mental skills development and emphasis on ball recognition, movement, shot selection, technique and strategy/tactics as well as rituals and routines.  Court assignments are made at the discretion of our Directors based on a combination of effort, commitment as well as match-play and tournament results.  Progress reports with program coaches aid in monitoring the progress of your child's growth in this program.
A minimum of two program training days and a private lesson package is strongly recommended for EHP1 and EHP2 students.