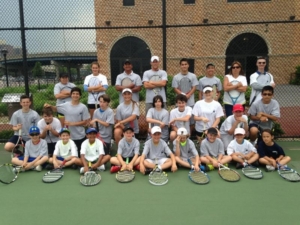 We are so excited to look ahead to the start of the Gotham Stadium NYC Summer Camp 2023!
Our team is already busy planning a summer camp experience that promises to be filled with skill  development, training, learning, enjoyment and helping each Gotham Stadium NYC camper grow through tennis both on and off the court.
Please review the 2023 Summer Tennis Camp information below.  For Early Bird Savings and to Request Placement=>  Click Here
Now in our second decade, Gotham Stadium NYC offers a unique array of summer tennis programs designed for tennis players of all levels to experience:
The Gotham Stadium Junior Development Red and Orange Ball Camp (Ages 5-10) is a great way to keep your child active and improve his or her tennis in a fun and supportive environment. The camp is designed to take your child to the next level towards tennis proficiency in our fun and supportive environment. The Junior Development Camp is under the direction of Gotham Stadium's year-round Academy instructors with international backgrounds who excel at teaching junior players at this formative stage of development. Your child will not only have lots of fun, but also gain confidence, learn appropriate tennis fundamentals and make new friends.
The Gotham Stadium NYC High Performance Yellow and Green Ball Tennis Camp (Ages 7-15) under the direction of  Gotham Stadium's team of high performance coaches, is designed for those juniors who aspire to become more competitive tournament players and prepare them for more competition and advanced play.
Our HP Camp is a highly focused, personalized training program designed to help each player further develop all aspects of their game. Areas of focus will be on mechanics of both hands and footwork, tactical/strategy management, and most importantly, mental and physical strength.
Our goal is for each player to reach their maximum performance potential. Our highly-trained coaches excel at motivating our players to be the best that they can be. Key features of this summer's Gotham Stadium High Performance Camp include the following:
SUMMER 2023 DATES: JUNE 5 – SEPTEMBER 1
Full Day:  Monday – Friday 9:00am-4:00pm
Half Day: Monday – Friday: 9:00 am – 1:00pm and 1:00pm-4:00pm
TACTICS AND STRATEGY (SHOT SELECTION AND PATTERN DEVELOPMENT)
Each player will develop a clear understanding of their unique strategy as a player building on player strengths. Major emphasis will be placed on learning high percentage tactics and shot selection.
MOVEMENT
Speed, agility, balance and quickness on the court will be assessed and improved. Recommendations for extra work will also be provided by the coaches.
FITNESS  AND PHYSICAL TRAINING
Strengthening each player and maximizing athletic potential along with injury prevention are major goals of program.  Players will participate in daily high performance physical training to improve strength and conditioning and develop a better understanding of injury prevention.
MENTAL FITNESS
Develop mental skills, discipline and confidence to enable player's to reach their full competitive potential are key components of the program.  Players will internalize mental fitness by working on these skills on and off the court daily.
DEDICATED MATCH PLAY
Singles and Doubles
Fully Supervised matches that reinforce concepts learned and training
EXPERT HIGH PERFORMANCE COACHING STAFF
Gotham Stadium high performance coaches are current and former tournament and collegiate players who are dedicated to bringing the high performance experience to players
Low Player to Coach Ratios: 3/4:1
Stadium Tennis Center is NYC's newest indoor/outdoor tennis center just minutes from Manhattan and home to one of the world's largest, state of the art tennis bubbles covering twelve indoor tennis courts during the indoor season from October – April. During the summer months, the Gotham Stadium NYC Summer Camp is outdoors with an adjacent indoor clubhouse and offered rain or shine. 
Gotham Stadium NYC Summer Camp 2023
Tel: 718-665-4684
Email: Team@stadiumtennisnyc.com
Early Bird Registration
Learn More: 2023 Gotham Stadium NYC Summer Camps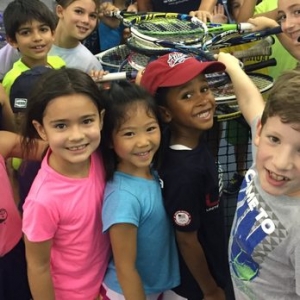 https://www.stadiumtennisnyc.com/wp-content/uploads/2021/06/stadium_Logo.png
0
0
Joel Kassan
https://www.stadiumtennisnyc.com/wp-content/uploads/2021/06/stadium_Logo.png
Joel Kassan
2023-01-29 06:00:55
2023-01-29 09:44:43
Early Bird Registration Reminder for the 2023 Gotham Stadium NYC Summer Tennis Camp